I'm a Born and Raised Mississippi Delta Girl!!
From Itta Bena, MississippI, I'm the daughter of Dr. Eugene F. Webb and local artist, Mozelle Parker Webb. I graduated from Pillow Academy in Greenwood (''75) and Mississippi State University with a BS Degree in Business/Marketing ('79).
My newspaper advertising career after college took me through Arkansas and Texas before returning to Jackson, Mississippi, in 1984 as the Advertising Director at the Northside Sun newspaper, the state's largest weekly.
After experimenting with other mediums, including oil painting, I starting taking pottery classes ('93) from well-known local potter, Robert Pickenpaugh, and fell in love with it the very first night of class! While sitting there playing with the clay for the very first time since "Playdoh,' I decided that "this is what I want to do the rest of my life!" Since then, I've studied under Stephen Jepson and Tom Shafer of the World Pottery Institute, Florida, and Thomas Morrison of Jackson, in addition to other workshops and continuing education with my dear friend and mentor, Robert Pickenpaugh. Thank you, Robert, for sharing so much of your knowledge with me over the years!

In 1998, I left the newspaper to start and publish a weekly newsletter, Coffee News, which allowed me more freedom and time for making and selling pottery. A few years later, I started and began publishing, Front Desk, a visitor information map that I distribute through local hotels and visitor centers. After selling Coffee News in 2008, I was finally able to become JRWebb Pottery full-time (along with a few other artistic indulgences and the Front Desk maps)... and, I've never looked back... From my studio in Madison County, MS, I now make and sell pottery to more than 40 stores, do large corporate orders and many one of a kind pieces for individuals...

Most all of my work is now hand-built or slab work. I take a hunk of clay and create one of a kind, functional pieces. I use my love of nature to create "earthy" and "organic" style pieces to warm any home. Many of my ideas and inspirations come from time we spend at our family lake house in Carroll County, Mississippi. My hopes are that my art work will inspire others to see and appreciate the beauty of my beloved South.
---
___________________________________________________________________________________________________________________________________________________________________________
I work with slabs of clay and hunks of clay to create, with my hands, original pieces with an earthy, organic and functional appeal.
No two pieces will ever be exactly the same...

My work has been purchased at shops, galleries and shows and shipped as gifts all over the world.

• Selected in Top 50 Businesswomen in Mississippi - 2003
• Featured in numerous magazine/newspaper articles and MS ETV
• Charter exhibitor in MS Development Authority's Mississippi Market
• Work handled in 40+ retail stores/galleries throughout the country
• Featured Artist at Mississippi Picnic in Central Park 2014 (and will be in 2015, too!)
• Featured Artist at Madison County Creative Economy Celebration 2014

A list of retail shops that currently carry JRWebb Pottery will be available on this site soon! I encourage you to visit them all!
As you look around, if you have any questions, requests or comments, I invite you to email me. I am always interested in your feedback, ideas and suggestions.
Enjoy!
Jonni R. Webb
Potter, Photographer, Publisher and Pretty Much Whatever Hat is Needed!
With Country Music Star Marty Stuart and Malcolm White, Director of Visit Mississippi, at the Mississippi Picnic in Central Park 2014.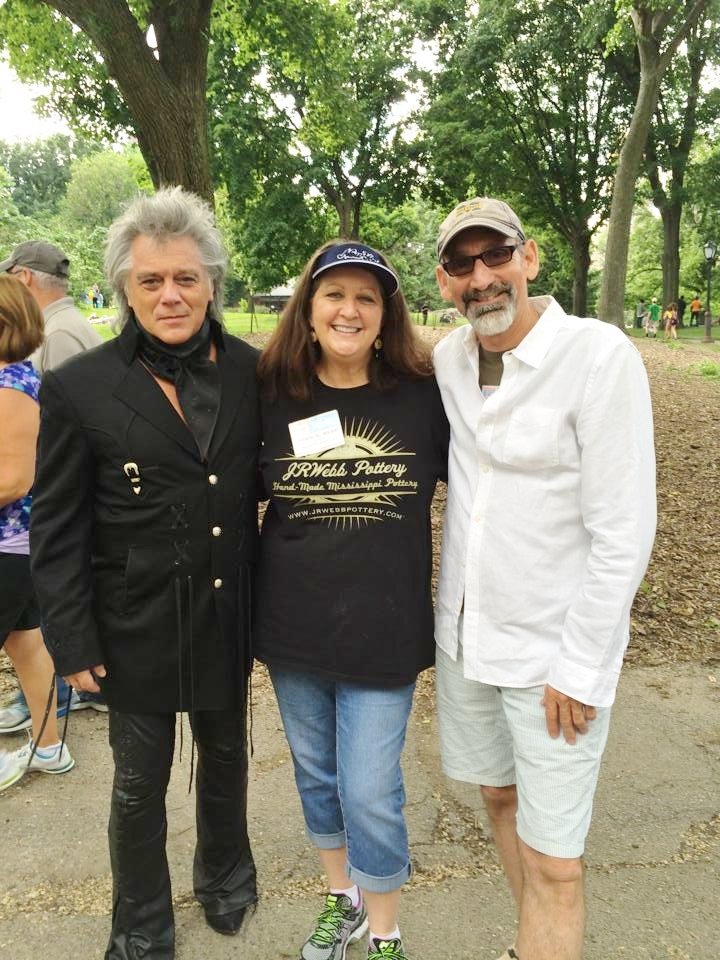 With Mississippi's First Lady, Deborah Bryant in New York's Central Park.